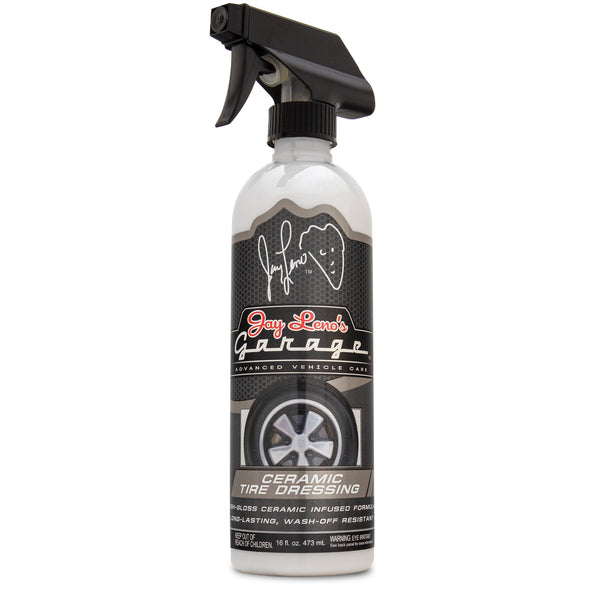 Ceramic Tire Dressing from Jay Leno's Garage combines a high-gloss tire & trim dressing with the durable, surface-protecting properties of ceramic. Achieve a tough, intensely-shiny finish on your rubber tires that is wash-off resistant!
Nourish, shine & protect tire & trim surfaces
Create a tough, protective barrier that lasts weeks

Leave behind durable, SiO2-based ceramic protection

Save money by achieving a longer-lasting shine

Outshine everyone at the next car show
PRODUCT DETAILS
Jay's Ceramic Tire Dressing is infused with a high-tech nanoparticle blend of SiO2 that leaves behind a super-durable layer of protection. When applied properly, Ceramic Tire Dressing repels water, dirt, UV rays, and other environmental pollutants to help keep your tires looking better longer!

What makes Ceramic Tire Dressing stand out from other tire dressings is that it cures and then bonds to the rubber or plastic surface it is applied to. This bonding effect is what helps create the durable, long-lasting shine associated with ceramic-coated finishes. Once cured, Jay's Ceramic Tire dressing will resist washing off for multiple weeks. Stack multiple layers to increase the amount of gloss desired.


For best results, apply to a tire surface that has been thoroughly cleaned of any previous dressing applications. Applying to a tire that hasn't been properly cleaned can decrease the wash-off resistance capabilities.

1. Thoroughly clean the rubber surface and dry completely.

2. Spray directly onto the tire sidewall, or onto an applicator sponge for a more controlled application.

3. Massage into the rubber and allow the dressing to penetrate. Stack additional layers of Ceramic Tire Dressing to achieve the desired level of gloss.

4. Allow 30 - 60 minutes for dressing to cure and bond to the rubber finish.

5. Step back and enjoy the shine!

California Ingredient Disclosure - Cleaning Products Right to Know Act 2017 (CA-RTK)


| Name of Substance | CAS No | Functionality | Authoritative Lists |
| --- | --- | --- | --- |
| water | 7732-18-5 | solvent | |
| sodium laureth sulfate | 68585-34-2 | surfactant | |
| cocamidopropylhydroxysultaine | 68139-30-0 | surfactant | |
| Sodium 2-(2-dodecyloxyethoxy)ethyl sulphate | 3088-31-1 | surfactant | |
| sodium chloride | 7647-14-5 | viscosity modifier | |
| glycol stearate | 111-60-4 | lubricant | |
| polyethylene oxide lauryl ether | 9002-92-0 | surfactant | |
| polydimethylsiloxane | 63148-62-9 | surface modifier | |
| ethoxylated C11-15 secondary alcohols | 68131-40-8 | surfactant | |

 

Safety Data Sheet (SDS) can be downloaded from our website. Note that OSHA's Hazard Communication Standard has different disclosure than CA-RTK. Therefore, the information contained in Section 3 of the SDS may not exactly match the information in this disclosure.
---
---