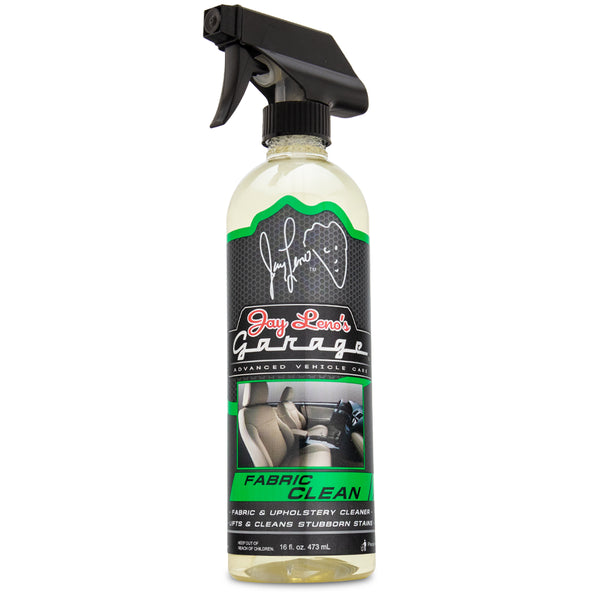 Jay's Fabric Clean is a powerful cleaner formulated to penetrate & lift stubborn stains from carpet & upholstery.
Tough on dirt, grime & stains

Gentle on fabrics, carpet & upholstery
The powerful cleaning formula eliminates odor-causing microbes
Easily lifts away stubborn stains
Great for cleaning convertible tops
PRODUCT DETAILS
Blended with odor-eliminating cleaning agents, Fabric Clean will leave your vehicle smelling refreshingly crisp. Great for use on carpet, cloth seats, door panels, convertible tops, headliners or anywhere else fabric is present.

Fabric Clean's oxygen-infused cleaners help to lift and separate stubborn stain-causing dirt from deep within the fabric fibers. The foaming action helps to bring dirt particles to the surface for easy clean-up with a microfiber towel or extractor.

Finishes clean & crisp without leaving a stiff, crusty residue behind. The odor-preventing enzymes blended into Fabric Clean help to defend against future mildew & odor growth.

Shake well. Vacuum and clean area to remove large dirt & debris particles.

1. Spray onto desired area to be cleaned. Allow a few moments for formula to penetrate stains.

2. Agitate area with a cloth or stiff-bristled brush.

3. Blot & lift away dirt & grime with a clean microfiber towel. Vacuum or use an extractor for professional results.

 

4. Allow area to dry completely.

California Ingredient Disclosure - Cleaning Products Right to Know Act 2017 (CA-RTK)


Name of Substance
CAS No
Functionality
Authoritative Lists
water
7732-18-5
carrier fluid / dissolver
cocamidopropylhydroxysultaine
68139-30-0
surfactant
lauryl glucoside
110615-47-9
surfactant
D-Glucopyranose, oligomers, decyl octyl glycosides
68515-73-1
surfactant
diethyl phthalate
84-66-2
fragrance
CDC 4th National Exposure Report
CECBP - Priority Chemicals
CWA 303(c)
CWA 303(d)
diethyl phthalate
84-66-2
fragrance
Nonfunctional constituents

Safety Data Sheet (SDS) can be downloaded from our website. Note that OSHA's Hazard Communication Standard has different disclosure than CA-RTK. Therefore, the information contained in Section 3 of the SDS may not exactly match the information in this disclosure.
---