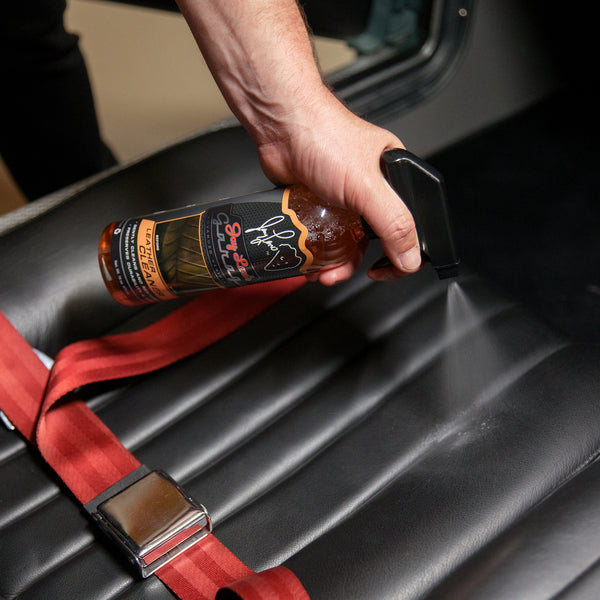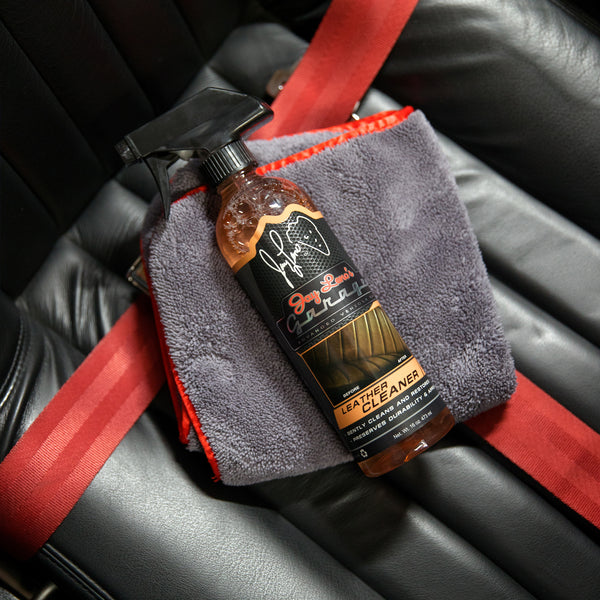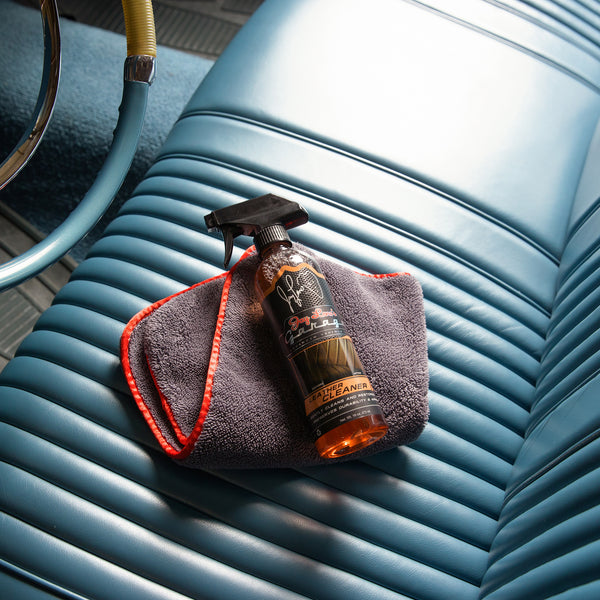 Jay's Leather Cleaner is designed to gently lift away dirt, residue, grease, denim transfer, body oils, and stains from natural leather, new OEM sealed leather, and synthetic leather alternatives.
Safely clean sensitive leather surfaces
Helps to preserve strength, durability & appearance
Penetrates deeply to lift stubborn stains
Great for cleaning natural, new OEM, synthetic & patent leather surfaces
PRODUCT DETAILS
Properly treated leather should have a soft, supple, satin finish. Unless it's patent, leather shouldn't be shiny or slick. Build up from body oils, dirt & other types of grime tend to give leather a glossy appearance. Jay's Leather Cleaner gently lifts these embedded contaminants from deep within the pores of the material yet still retains the natural durability of the leather.

Leather is a wonderful material, but it can be more delicate when compared to vinyl or cloth. UV rays, dirt & contaminants can wreak havoc and cause leather to wear prematurely. The easiest way you can combat that degradation is with frequent maintenance & care. Regular cleanings followed by a leather conditioner application will help ensure your leather interior provides enjoyment for the many miles to come!

Always test an inconspicuous area before use to ensure colorfastness.

1. For light-duty cleaning, spray Leather Cleaner onto a clean microfiber towel.
2. Gently scrub area to be cleaned.
3. Wipe away residue with a clean microfiber towel.
4. For stubborn stains, spray Leather Cleaner directly onto desired surface. Repeat steps 2 & 3.



California Ingredient Disclosure - Cleaning Products Right to Know Act 2017 (CA-RTK)



| Name of Substance | CAS No | Functionality |
| --- | --- | --- |
| water | 7732-18-5 | carrier fluid / dissolver |
| EDTA, anhydrous | 64-02-8 | chelate / sequestrant |
| benzotriazole polymer mixture UV Absorber | not available | UV absorber |

Safety Data Sheet (SDS) can be downloaded from our website. Note that OSHA's Hazard Communication Standard has different disclosure than CA-RTK. Therefore, the information contained in Section 3 of the SDS may not exactly match the information in this disclosure.
---
---