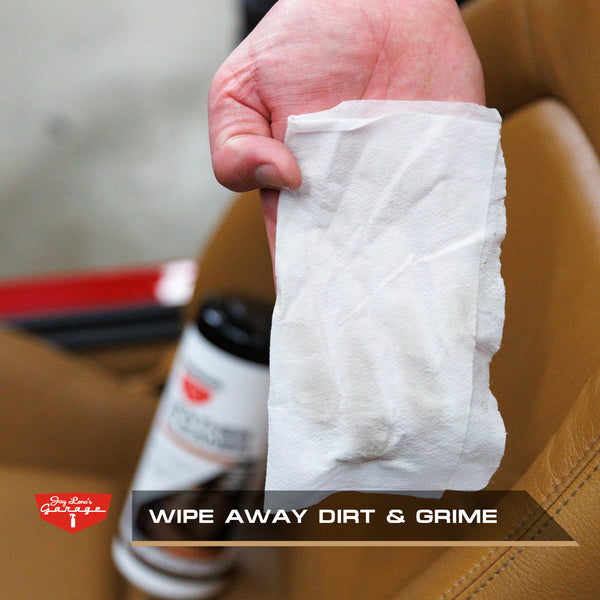 The power of Jay's Leather Cleaner is now available in convenient, easy-to-use, disposable wipes.
Pre-moistened with our best-selling Leather Cleaner formula
Quickly remove dirt & grime from leather surfaces
Safe for cleaning natural, new OEM, synthetic & patent leather surfaces
Helps preserve strength, durability, and appearance
Penetrates deeply to lift stubborn stains
30 Premium Wipes (8 in. x 7 in.)
PRODUCT DETAILS
Quickly removes dirt, grime, grease, sweat, body oils, and more from all types of leather finishes. The new, handy, user-friendly wipes make caring for your leather on the go a breeze!

Properly treated leather should have a soft, supple, satin finish. Unless it's patent, leather shouldn't be shiny or slick. Build-up from body oils, dirt, and other types of grime tends to give the leather a glossy appearance.!

Jay's Leather Cleaner Wipes gently lift these embedded contaminants from deep within the pores of the material yet still retains the natural durability of the leather. Leather is a wonderful material, but it can be more delicate when compared to vinyl or cloth. UV rays, dirt, and contaminants can wreak havoc and cause the leather to wear prematurely. The easiest way you can combat that degradation is with frequent maintenance and care. Regular cleanings followed by a leather conditioner application will help ensure your leather interior provides enjoyment for many miles to come!

Care for and clean your leather on a frequent basis for years of enjoyment. Moisturize freshly-cleaned leather with Jay Leno's Garage Leather Conditioner to preserve the soft, supple feel.

Use only as directed. Please refer to vehicle and equipment owner's manuals for specific surface care instructions

1. Pull up & tear away a wipe to use.

2. Wipe the desired area to be cleaned.

3. Fold and/or flip the towelette to a clean side as you continue to work.

4. If necessary, buff away excess product with a soft, clean microfiber towel.

5. Snap lid securely shut between uses to prevent moisture loss. Store in a cool place, out of direct sunlight.

California Ingredient Disclosure - Cleaning Products Right to Know Act 2017 (CA-RTK)

| Name of Substance | CAS No | Functionality |
| --- | --- | --- |
| water | 7732-18-5 | carrier fluid / dissolver |
| EDTA, anhydrous | 64-02-8 | chelate / sequestrant |
| benzotriazole polymer mixture UV Absorber | not available | UV absorber |

Safety Data Sheet (SDS) can be downloaded from our website. Note that OSHA's Hazard Communication Standard has different disclosure than CA-RTK. Therefore, the information contained in Section 3 of the SDS may not exactly match the information in this disclosure.
---