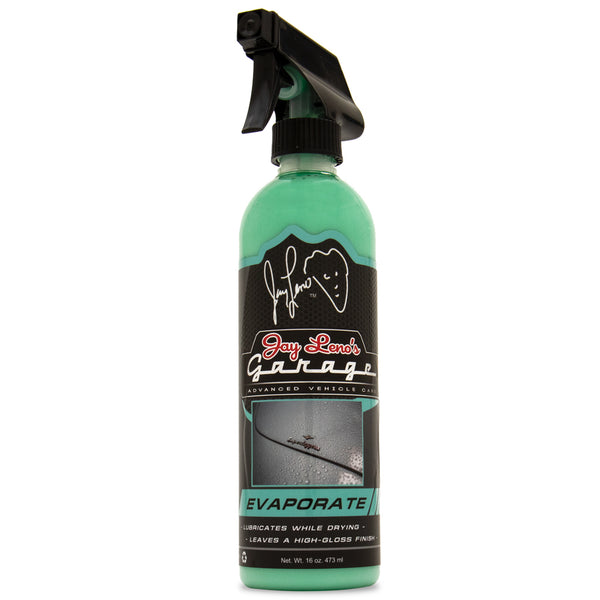 Evaporate from Leno's Garage is an advanced drying aid that helps lubricate your towel during the drying process, then leave behind a robust layer of paint sealant.
Provides ultra-slick lubrication while drying your vehicle's paint
Helps your drying towel absorb more water in less time
Lubricate, protect, shine & seal all in one step!
An advanced blend of polymer-based sealants & resins provide robust paint protection!
PRODUCT DETAILS
You are most prone to imparting scratches & swirls in your vehicle's finish during two main points of a car wash: 1. The initial washing when the car is dirtiest and 2. During the drying step. A quality wash shampoo and the correct detailing tools will help minimize scratch potential during the car wash, but a drying aid and a soft microfiber towel are your best defense when towel drying your car or truck.

Evaporate simplifies a detail by lubricating your drying towel and helping it to absorb water more readily. It's also designed to leave behind a robust layer of protection delivered by the high-tech polymer sealants blended with the formula. It truly helps to save time by combining two distinct steps of the detailing process into one simple operation.

Still not sure on what a drying aid is? Read more about it here!

Just spray on while the car is still wet after you've finished your car wash & rinse steps. You'll immediately begin to see the water jump off the surface as you apply Evaporate.

1. Work one panel at a time in a well-shaded area while the surface is cool to the touch.

2. We suggest using two drying towels when using Evaporate. One to absorb water and massage the sealant into your vehicle's exterior surfaces. The second will help to buff & finish to a beautiful shine.

3. While the surface is still wet, mist Evaporate onto your car or truck. Don't over do it here, a little can go a long way.

4. With your first microfiber towel, wipe to distribute Evaporate onto the surface and absorb as much water as possible.

5. With your second microfiber towel, buff the surface to a perfect finish.




California Ingredient Disclosure - Cleaning Products Right to Know Act 2017 (CA-RTK)



 

Name of Substance
CAS No
Functionality
Authoritative Lists
water
7732-18-5
carrier fluid / dissolver
odorless mineral spirits
64742-48-9
solvents
Canada PBiTs
EC Annex VI CMRs - Cat. 1B
octamethylcyclotetrasiloxane
556-67-2
solvents
Canada PBiTs
CECBP - Priority Chemicals
EC PBTs
decamethylcyclopentasiloxane
541-02-6
solvents
Canada PBiTs
CECBP - Priority Chemicals
EC PBTs
polydimethylsiloxane
63148-62-9
shine agent
Dimethyl Siloxane, HO-term Rxn Methyltrimethoxysilane
& Aminoethylaminopropyltrimethoxysilane
69430-37-1
shine agent
N,N-bis(2-Hydroxyethyl)oleamide
93-83-4
surfactant
propylene glycol
57-55-6
humectant
polytrimethylhydrosilylsiloxane
68988-56-7
resin


Safety Data Sheet (SDS) can be downloaded from our website. Note that OSHA's Hazard Communication Standard has different disclosure than CA-RTK. Therefore, the information contained in Section 3 of the SDS may not exactly match the information in this disclosure.




---
---