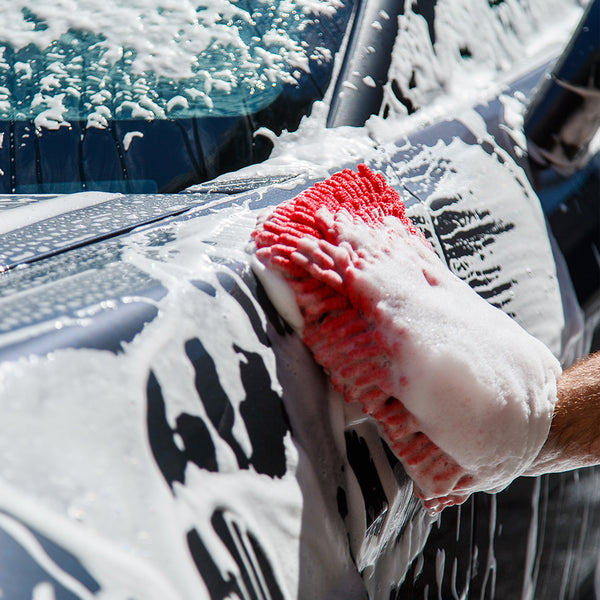 Microfiber Chenille Wash Mitt
A premium, microfiber chenille car wash mitt that will make your next detail fun & easy. The extra-plush microfiber strands hold loads of soap and suds for a gentle, scratch-free wash every time!
Scratch-Free Microfiber Wash Mitt
Large 9" x 7" size easily cleans even the biggest vehicles 
Premium, super-soft chenille construction is gentle on all surfaces
Lift away and trap scratch-causing dirt & grime
PRODUCT DETAILS
Care for your car, truck or bike and detail like a pro with Jay's Chenille Wash Mitt. The premium chenille fingers are made of ultra-soft microfiber and provide a scratch-free wash every time. Say goodbye to dreaded swirls! Safely lift dirt up and away from sensitive painted surfaces.

Made from a high-quality 70/30 blended microfiber, Jay's Chenille Wash Mitt is absorbent, plush and remarkably soft. Detail with the confidence in knowing you're working with the best tools available in car care.




How to use it:

1. Follow the "two-bucket wash method" - fill one bucket with clean water, and the second mix with your desired JLG car wash soap. Insert Grit Guard bucket inserts.

Prep foam cannon & pressure washer, or foam gun if available.

2. Rinse vehicle with clean water to remove as much dirt & debris as possible. Apply foam if using foam cannon/gun.

3. Dip wash mitt in soapy water, then wash surface using a straight-line motion. Rinse frequently in clean water bucket, then dunk into soapy water before going back to the vehicle's surface. Repeat around entire vehicle.

4. Rinse vehicle completely, then dry with a premium microfiber towel.



---