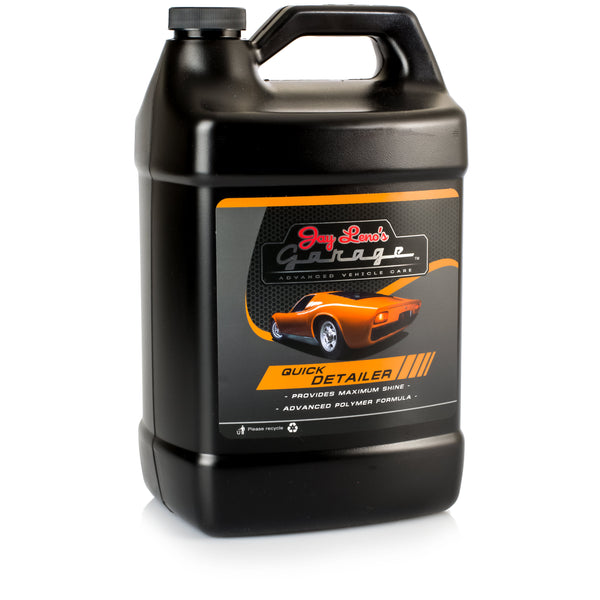 A customer favorite since day one! The easy spray-on, wipe-off application makes achieving a lustrous streak-free shine as simple as can be.
Our advanced polymer formula increases gloss & shine
Provides a boost in color, depth & clarity to your paint's finish
The extra slick formulation safely wipes away dust, fingerprints & smudges
An excellent option to use after a wash, or at the next car show to keep your paint looking its best!
PRODUCT DETAILS
Jay's Quick Detailer is our go-to detailing spray when cleaning up around the Garage! Formulated to provide unsurpassed slickness and shine with one easy application.

This detailing spray helps to remove fingerprints, smudges, water spots & light dust. It's great for use on all painted surfaces, clear coat, plastic, glass, chrome & more.

An excellent option to top off freshly waxed or sealed finishes.

Top off your freshly waxed or sealed finish with a final layer of gloss. Great for removing light dust, smudges, fingerprints or water spots.

1. Lightly mist over smudges, fingerprints, light dust or water spots. If using in direct sunlight, mist the towel rather than the surface.

2. With a clean microfiber towel, gently wipe surface in a single direction.

3. Once surface is clear of debris, flip towel over to a dry side and buff away any streaks.

California Ingredient Disclosure - Cleaning Products Right to Know Act 2017 (CA-RTK)



Name of Substance
CAS No
Functionality
water
7732-18-5
carrier fluid / dissolver
silicone emulsion NJTS# 946137-01
shine agent
Orange oil, sweet
8008-57-9
8028-48-6
68647-72-3
fragrance




Safety Data Sheet (SDS) can be downloaded from our website. Note that OSHA's Hazard Communication Standard has different disclosure than CA-RTK. Therefore, the information contained in Section 3 of the SDS may not exactly match the information in this disclosure.
---
---