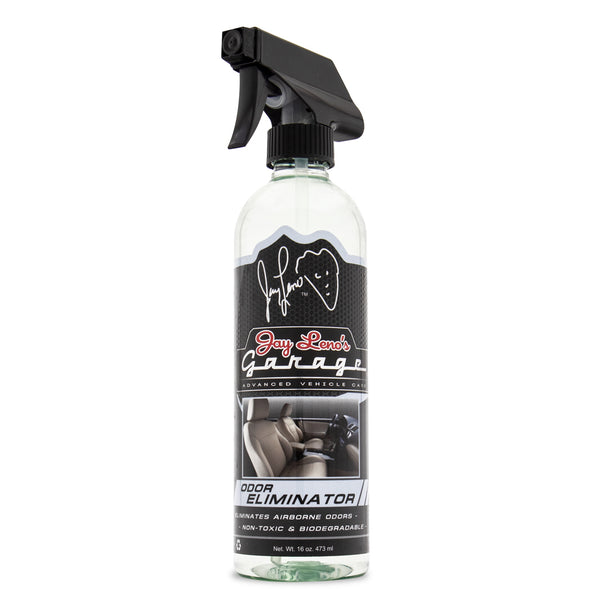 Jay's Odor Eliminator is blended with chemical enzymes that help to physically eliminate odor-causing bacteria & germs.
Quickly eliminate harsh odors & lingering smells
Don't just mask odors, clean and eliminate them from the air
Clean smells from the air, fabrics and other common areas
Blended with powerful enzymes that eliminate odors
PRODUCT DETAILS
Fighting odors in your car, truck or around your home doesn't have to be a losing battle. A couple spritzes of Jay's Odor Eliminator and foul smells are a thing of the past! The fast-acting enzymes work to clean odor-causing bacteria from the air, fabrics and other common areas.

Did you leave your gym bag in the car overnight? Maybe the kids spilled a mystery liquid and you're not quite sure where the stench is coming from. Regardless of where the odors are coming from, don't let foul smells dampen the mood.

Jay's Odor Eliminator couldn't be easier to use! Spray Odor Eliminator where ever foul odors are present.

1. Mist the air, fabric, or anywhere foul odors are present

2. Repeat as necessary




California Ingredient Disclosure - Cleaning Products Right to Know Act 2017 (CA-RTK)

Name of Substance
CAS No
Functionality
Authoritative Lists
water
7732-18-5
carrier fluid / dissolver
propan-2-ol
67-63-0
alcohols
OEHHA RELs
poly(oxy-1,2-ethanediyl), .alpha.-undecyl-

.omega.-hydroxy-, branched and linear)

127036-24-2
surfactant

Safety Data Sheet (SDS) can be downloaded from our website. Note that OSHA's Hazard Communication Standard has different disclosure than CA-RTK. Therefore, the information contained in Section 3 of the SDS may not exactly match the information in this disclosure.



---