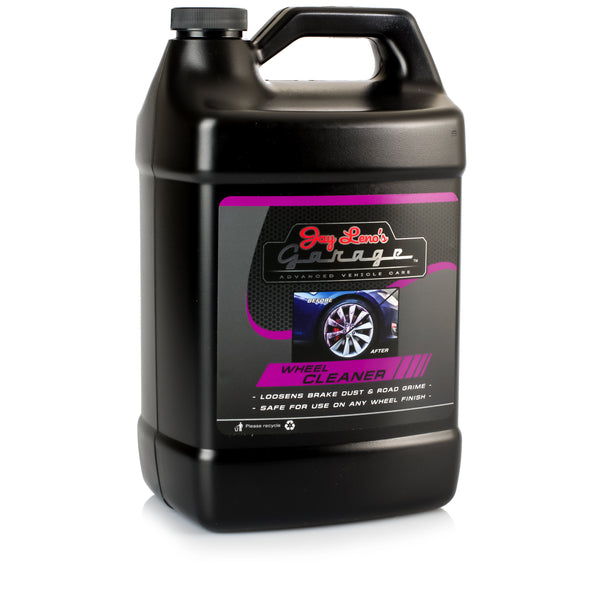 An easy-to-use and effective brake dust cleaner. Wheel Cleaner from Leno's Garage is a color changing formula that turns a deep purple as it's activated and working to clean road grime & stubborn brake dust.
Safe for use on aluminum, alloy, chrome, powder coat, painted & clear coat wheel finishes
Increased viscosity helps formula cling to vertical wheel surfaces
Reacts to the iron particles in brake dust
Quickly & easily dissolves embedded iron contamination
Safe for use on high performance (carbon/ceramic) brake pads & rotors
PRODUCT DETAILS
Hands down, Jay's Wheel Cleaner is the quickest & easiest way to clean stubborn brake dust & road grime. Blended with active cleaning agents and high-tech surfactants, we've built a spray-on wheel cleaner that is tough to compete with!

We've designed this formula to have a thick, viscous composition so it clings to the wheel surface while it is working. After a few moments you'll notice the formula change to a deep color purple. That's the active ingredient attacking the bonded metal contaminants. Allow a few moments for Wheel Cleaner to work (really dirty wheels may require some agitation), then rinse clean for a brand new, show room finish!

Disclaimer: Please read and understand the manufacturers care instructions for your specific wheels. While we have tested Wheel Cleaner on numerous wheel types & finishes, coating technology continues to change & evolve. Be sure to test an inconspicuous area of the wheel prior to initial application to ensure desired results.

1. Make sure the wheel & braking surfaces are cool to the touch. It is best to work out of direct sunlight.
2. Pre-rinse wheel with clean water.
3. Spray Wheel Cleaner liberally on to the wheel surface. Allow 30-60 seconds for Wheel Cleaner to activate. Do not allow Wheel Cleaner to dry on the surface.
4. For stubborn brake dust & road grime, agitate with a soft, nylon bristled brush. Use an EZ Detail Brush for barrels & hard to reach places.
5. Rinse thoroughly with clean water, then dry.


There are many factors beyond the control of Leno's Garage that are uniquely within the user's specific knowledge & control. It is the user's responsibility for evaluating the Leno's Garage product and determining whether it is a suitable fit for their particular application. Leno's Garage will not be liable for any indirect, special or consequential damage related to the use of this product.

California Ingredient Disclosure - Cleaning Products Right to Know Act 2017 (CA-RTK)



Name of Substance
CAS No
Functionality
Authoritative Lists
water
7732-18-5
carrier fluid / dissolver
(2-hydroxyethyl)ammonium mercaptoacetate
126-97-6
metal cleaner
2-(2-butoxyethoxy)ethanol
co-solvent
CA TACs
poly(oxy-1,2-ethanediyl), .alpha.-undecyl-
.omega.-hydroxy-, branched and linear)
127036-24-2
surfactant
cocoalkylmethyl polyoxyethylene ammonium
chloride
61791-10-4
surfactant
sodium gluconate
527-07-1
chelate / sequestrant
xanthan gum
11138-66-2
viscosity modifier
benzyl benzoate
120-51-4
fragrance
EU Fragrance Allergens


Safety Data Sheet (SDS) can be downloaded from our website. Note that OSHA's Hazard Communication Standard has different disclosure than CA-RTK. Therefore, the information contained in Section 3 of the SDS may not exactly match the information in this disclosure.
---
---