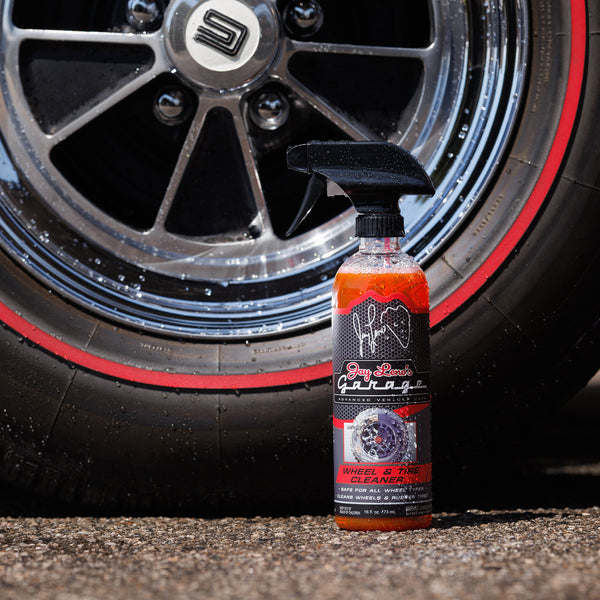 Wheel & Tire Cleaner from Jay Leno's Garage is formulated to safely clean road grime, brake dust, and old dressing applications from both wheels & rubber tires. Make quick work of the dirtiest detailing jobs with an effective cleaner that tackles multiple surfaces! Designed to be safe for most wheel types including common factory & OEM wheel finishes.
A powerful cleaning solution that tackles two detailing jobs
Safe for use on chrome, painted, powder-coated, polished, and other OEM wheel finishes  
Quickly & effortlessly clean brown tires (blooming)

The deep-cleaning formula wipes out previous dressing applications
Leave behind an incredibly clean, factory-fresh finish on both wheels & tires
The non-acidic formula rinses away clean

PRODUCT DETAILS
Tackle two detailing jobs with one easy-to-use cleaning solution. Brake dust, old dressing applications, and road grime don't stand a chance! Wheel & Tire Cleaner from Jay Leno's Garage allows you to clean both wheels and tires with a powerful cleanser that digs deep to quickly lift away stubborn dirt & grime.

Blended with a powerful combination of alkaline-concentrated solvents, surfactants, and cleaning agents, the high-sudsing formula easily removes dirt, mud, brake dust, road grime, silicones, grease, and previously applied dressings from most wheel finishes and tires.

Give your wheels & tires a fresh start and achieve professional detailing results with Wheel & Tire Cleaner from Jay Leno's Garage!


Shake well. Work in a shaded area and ensure wheel, brake and tire surfaces are cool to the touch. Always follow your vehicle manufacturer's recommended care routine. Test an inconspicuous area to ensure desired results.

1. Rinse wheel & tire with clean water, then spray cleaner onto the desired areas. All a few moments for the cleaner to penetrate. Do not allow the product to dry on the surface.

2. Agitate stubborn brake dust and road grim with a brush or cloth. Use a soft-bristled brush on sensitive wheel surfaces, or a stiff-bristled brush for rubber sidewalls.

3. Rinse thoroughly with clean water and then dry.

California Ingredient Disclosure - Cleaning Products Right to Know Act 2017 (CA-RTK)



Name of Substance
CAS No
Functionality
Authoritative Lists
Water
7732-18-5
solvent
sodium metasilicate, anhydrous
6834-92-0
cleaning agent
cocoalkylmethyl polyoxyethylene ammonium

chloride

61791-10-4
surfactant
acrylic polymer
75760-37-1
viscosity modifier
disodium cocoamphodipropionate
68604-71-7
surfactant
Sodium olefin sulfonate
68439-57-6
surfactant
amines, coco alkyldimethyl, N-oxides
61788-90-7
surfactant
EDTA, anhydrous
64-02-8
chelate / sequestrant
1-butoxypropan-2-ol
5131-66-8
co-solvent




Safety Data Sheet (SDS) can be downloaded from our website. Note that OSHA's Hazard Communication Standard has different disclosure than CA-RTK. Therefore, the information contained in Section 3 of the SDS may not exactly match the information in this disclosure.



---