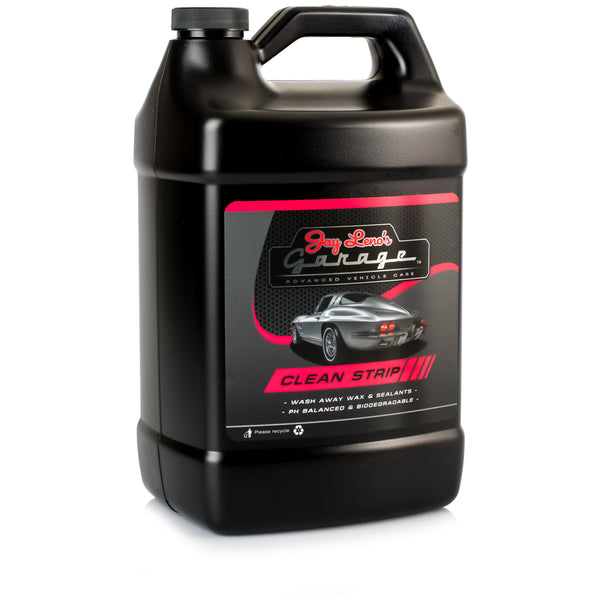 Clean Strip from Leno's Garage is a concentrated car wash shampoo that is blended with strong cleaning agents which help to remove previous wax and sealant applications. Great for preparing your paint for defect correction, or to ensure you're applying paint protection to a clean surface.
Thick, foaming lather helps to lift dirt & grime away from your paint
Safely strips away previous wax or paint sealant applications
Helps new coating, sealant or wax applications to create a strong bond with the surface
Can reveal hidden scratches & swirls marks
Ideal for use prior to a claying procedure to help remove embedded dirt particles
PRODUCT DETAILS
Quick & easily remove previous wax or coating applications without the fear of drying out your plastic, trim & rubber exterior surfaces. Fresh wax, paint protection film, and new coatings bond to the painted surface best when it is clean of old paint protection material.

Stay away from caustic dish soaps & abrasive laundry detergents when washing your vehicle. Sure they may remove a wax coating, but they can also harm your vehicle's finish by etching, staining or scratching the paint. Instead use a car wash shampoo that is specifically formulated to tackle the task at hand!

Great for use with a traditional hose & bucket, with a foam gun, or even a pressure washer & foam cannon setup. If using a traditional hose & bucket, we suggest using the two-bucket car wash method.

Directions for use with 5 gallon bucket:

1. Add 2-4 ounces of soap to an empty bucket. Spray a pressurized blast of water to fill the bucket and produce loads of luxurious suds.

2. Wash car or truck with your normal wash routine.

Directions for use with a foam gun or foam cannon setup:

1. Fill the water/soap reservoir with clean water until almost full. Note if there are any fill lines printed on the bottle.

2. Add 2-4 ounces of soap to the water/soap reservoir.

3. Attach to foam gun/cannon and use per manufacturer's instructions.

California Ingredient Disclosure - Cleaning Products Right to Know Act 2017 (CA-RTK)



Name of Substance
CAS No
Functionality
Authoritative Lists
water
7732-18-5
carrier fluid / dissolver
sodium laureth sulfate
9004-82-4
68891-38-3
15826-16-1
surfactant
amines, coco alkyldimethyl, N-oxides
61788-90-7
surfactant
orange oil
8028-48-6
68647-72-3
fragrance
cocamidopropylhydroxysultaine
68139-30-0
surfactant
2-(2-butoxyethoxy)ethanol
co-solvent
tetrasodium N,N-bis(carboxylatomethyl)-Lglutamate
51981-21-6
chelate / sequestrant
CA TACs
sodium metasilicate, anhydrous
6834-92-0
cleaning agent
sodium chloride
7647-14-5
viscosity modifier
polyethylene oxide lauryl ether
9002-92-0
surfactant




Safety Data Sheet (SDS) can be downloaded from our website. Note that OSHA's Hazard Communication Standard has different disclosure than CA-RTK. Therefore, the information contained in Section 3 of the SDS may not exactly match the information in this disclosure.
---
---